Lodging VS Glamping in Botswana
Deciding where to stay or what accommodation to choose from when going on holiday can be a daunting decision especially when taking into consideration the price of a family vacation can be hefty on the pockets. You also want to consider your environment and whether you're getting the best experiences at your chosen destination for your family to enjoy the full experience.
When visiting the beautiful country of Botswana with its rich wildlife and ecosystem biodiversity, access to these natural wonders becomes an important factor to consider when looking at accommodation options. This is when you ask yourself: Lodging or Glamping?
Both forms of accommodation fall in to the more luxurious category and can tend to be costly but both come with unique pros and cons and the question you need to ask yourself when weighing these options is 'Which will give me better value for my money?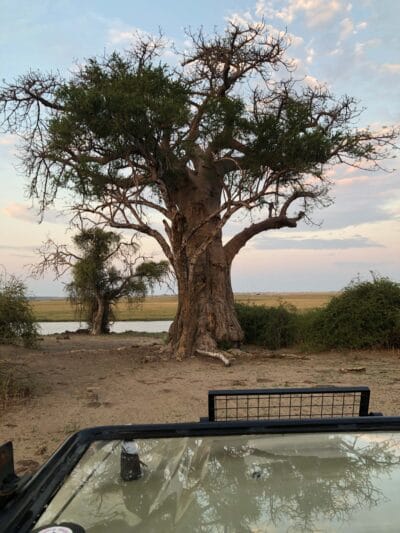 The answer to this question will differ depending on what people prioritise, for example if having an AC, access to a mini fridge in your room, a swimming pool and set departure times for game drives is a must then lodging is the direction you should look in.
However, if you want wildlife walking through your camp at night listening to the unfiltered raw sounds of nature, game drives tailored to your preferences, unique touches and personalisation in the choice of cuisine and a hands on staff that cater to your every need and comfort then Glamping is the way to go.
What many don't know or consider when booking a trip is the limitations certain accommodations have.
For example when staying in a lodge you will most likely receive if it is 4* or 5*:
• Air-conditioning
• Room fridge
• Decent bed and bedding
• Room service once a day
• Swimming pool
• 1 scheduled game drive per day
• Fixed location
• Usually don't accepts children under 12
• And other usual amenities found in hotels
However, with a mobile safari Glamping package tailor made for you and your family's preferences with Semunyeni Safaris you'll receive:
• Fence-less campsite
• Free moving wildlife
• Destination change for optimal experiences
• 3 gourmet meals a day of your choice (dietary restrictions included)
• 2 between meal snacks of your choice
• All drinks inclusive including alcohol of your choice
• 2 game drives per day with the time of departure and duration of your choice
• Orthopedic memory foam mattresses
• Pure cotton organic bedding
• Flushing toilets
• Environmentally friendly Biodegradable chemicals
• Renewable energy powering camp (solar)
• Expert staff catering to your every need
• Intimate and personal experience with just your group
• Excursions of your choice (River cruise, Mokoro ride, rock art, Meerkat
interactions, ATV activities etc.)
• Welcome all ages
So when booking your next holiday for you and your family to visit the breathtaking landscapes and the rich wildlife this beautiful country has to offer,  Semunyeni safaris will help you tailor make a safari of a lifetime with fun filled activities for the kids and wildlife sighting you'll never forget for the fraction of
the price as most lodges.
Remember to create nothing but memories, leave nothing but footprints, take nothing but photos.