DELTA SAFARI
Moremi Game Reserve and Khwai Conservancy
Good Sightings: April to December
Peak Season: July to October
Low Season: January to March
Moremi and Khwai are northwest of Maun and both can be reached via a short scenic flight (optional extra), or a relaxing 4×4 drive. Located 180km from Maun, your Moremi and or Khwai adventure awaits you.  From streaming rivers to sun-kissed horizons and luscious greenery, Moremi is the oldest protected section of the Delta and has year-round large numbers of elephant, buffalo, and predators.
All the Big Five are easily spotted – even the hardest to find, the leopard, is quite relaxed here. Wild dog sightings (a once-in-a-lifetime experience) are some of the best in Africa. The best time to go to see this incredible creature is the middle of the dry season when the water is at its highest levels and food is plentiful and you can find the dogs denning. Rhino was once extinct in the Okavango, but both black and white rhino have been reintroduced in the reserve with rare sightings on occasion.
For those who enjoy birding, there more than 500 species of woodland and water birds. Moremi offers very good birdwatching year-round, but the best time is during the wet months, from November to April, when summer migrants make the reserve their temporary home. Wildlife viewing is better during the dry months, from May to October when the brush has died down and the animals are easier to view.
Moremi is only separated from Khwai by a river but Khwai's floodplains are distinguished by beautiful mature riverine forests and high density of raptors at the end of the dry season.
All wonders of the African bush – the stars, the silence, and the sunsets – are what Moremi and Khwai are known for.  This is the best area for a Mokoro experience in Botswana to bring you up close to the animals coming down to drink.
Quote: 'If you really want to experience peace and tranquillity, there is no better place than the Okavango Delta. It is an ecosystem like no other, created as the Okavango River flows into the parched Kalahari Desert, bringing life to dry land. The Delta offers wildlife sightings that many spend years trying to see. It's difficult to describe a place as special as this, so the only way to understand is to experience it yourself,' says Dalene de Villers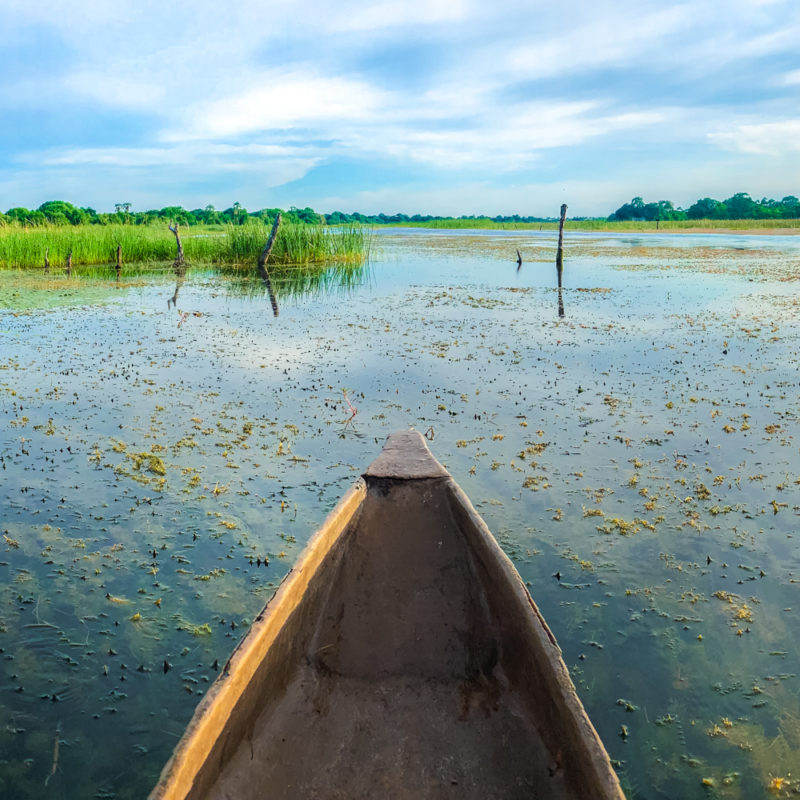 HIGHLIGHTS
Scenic Delta flight (optional extra)

LUXURY CAMPING & ACCOMMODATION
BOTSWANA MOBILE SAFARIS