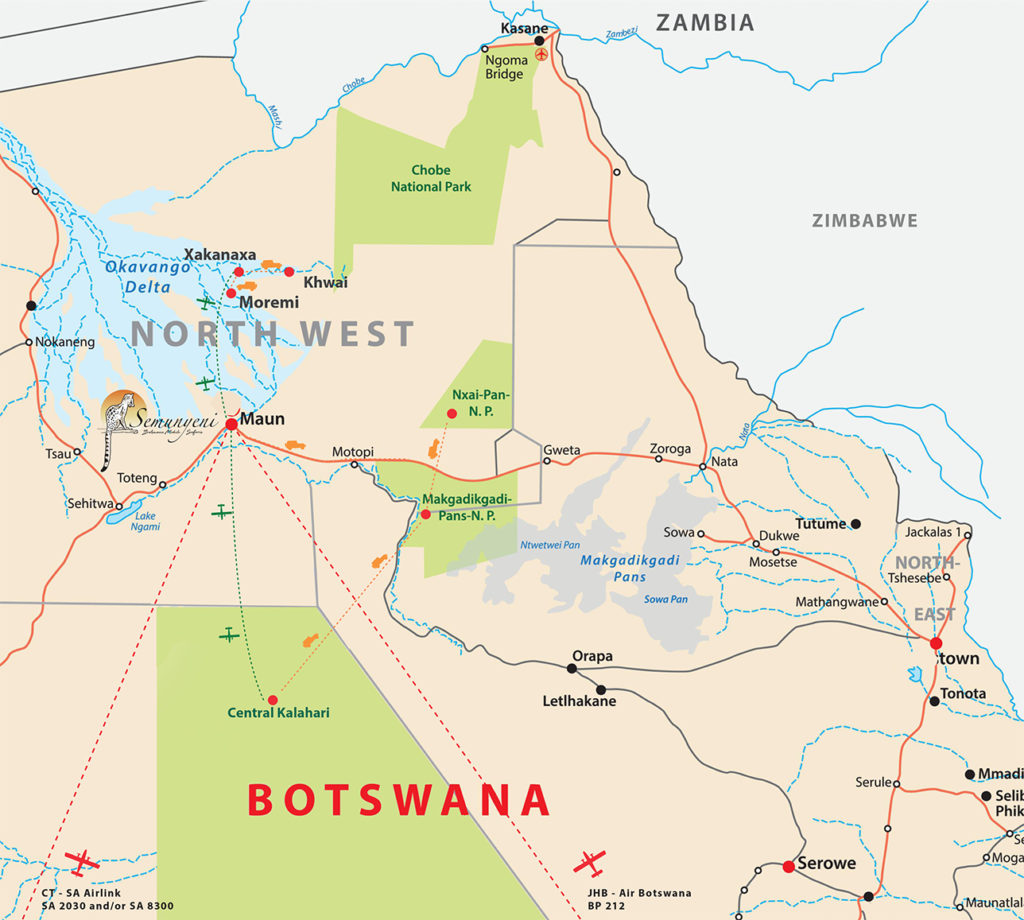 BOTSWANA MOBILE SAFARIS
Semunyeni's life-changing mobile safari experiences take you through some of Botswana's most beautiful and diverse regions, from the wild and ancient Kalahari desert, the grassy plains of Nxai Pan and the Makgadikgadi – an ancient salt pan the size of Switzerland – and the world-renowned Okavango Delta, a pristine wilderness of meandering channels and flood plains teeming with game.
Botswana's unparalleled game experience and extraordinary natural diversity offer more than simply ticking off the Big Five and nearly 600 bird species. This is the African camping safari at its most authentic and choosing a mobile safari over a traditional lodge promises a truly immersive and life-changing experience.
Our unique "glamping" (glamorous camping) approach is more luxurious than traditional camping and our tented safari trips are always personal and private. Every delicious meal is catered for on our all-inclusive glamping trips, and while guests set off on daily 4×4 game drives through each reserve, our team packs up camp and moves the tents on to the next remote location to prepare ahead and welcome everyone back at sundown. Guests enjoy dinners served around a roaring fire and under vast, star-strewn African skies, before retiring to sleep in spacious and comfortable tents. Once snug in bed, the sounds of the wild fill the air – often the roar of a lion followed by the whoop of a hyena. Early morning hippo grunts greet the dawn and shy buck graze quietly as the camp wakes up to steaming cups of tea and homebaked rusks.
We spend time getting to know your interests before you even leave home. So whether you're a wildlife photographer or passionate birder – or simply need to disconnect from the world – Semunyeni can tailor-make an unforgettable safari experience for you, whether you're looking for a very comfortable, all-inclusive mobile safari or to simply join us for part of your 4×4 road trip.